Baseball field lighting case
We supply lighting for baseball field & stadium, which is compatible to world-class tournament such as Minor & Major League Baseball (MLB). Lights are one of the indispensable parts for game play – a good flood lighting system invigorates the baseball game and enhance the performance of the players. We offer the best LED lights for baseball field that save 80% energy after replacing the metal halide, mercury, halogen or HPS lamps, from 400 watt, 1000 watt to 1500 watt. Our exclusive thermal management system help reduce the junction temperature of LED chips and thus extend the life span of the lights to 80000 hours. Our product is also suitable for outdoor sports field or indoor batting cage. In 2019, we upgrade the lighting design, so the anti-glare ability is enhanced by 30%. Despite the upgrade, the cost of baseball field lighting remains the same.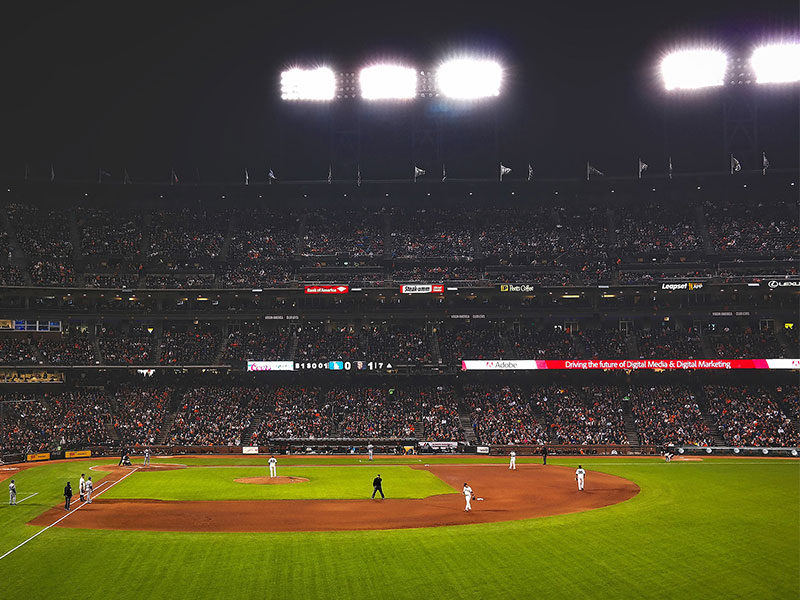 This baseball stadium uses HI-ROBOT LED High Mast Light 1300W lamps, and the entire baseball stadium uses 215. This is the final lighting plan agreed upon.
Requirement of Baseball Stadium Lighting
In accordance with the lighting manual for baseball diamond, there are number of standard and requirement we should follow.
1. Lux Level Required
For the standard Little League competitions, the illuminance should have at least 540 lux for infield, and 320 lux for outfield.
2. Lighting Uniformity Standard
What is uniformity? It indicates the ratio between minimum to maximum lux, or average to maximum lux inside the baseball field. The best lighting system should have as high uniformity as possible to avoid undesirable dim areas. The uniformity is 0.5 for infield, and 0.4 for outfield (Minimum to Maximum Ratio). Hence, we can see a higher standard is needed for infield.
3. Flicker-free Lighting
The maximum speed of baseball and bat is around 100 to 150 km/h. Our LED lights support 6000 Hz high-speed camera. Hence, we will never miss any critical moment.
4. CRI
According to the guidebook, the CRI of the lighting is at least 65 for baseball stadiums. Our LED lights have 80 CRI, which allows the camera to capture the "real" color.
HISHINE have so many years experience on the stadium project, if you are working on the project, please feel free to contact info@hishine.cc to get a free DIAlux simulation.
Why choose HISHINE?
1. HISHINE is a professional R & D manufacturer.
2. Provide one-stop service for design, lighting and installation instructions.
3. World's top design system, easy installation and more convenient maintenance.
4. 15 years focus on glare and light pollution control.
Why choose HISHINE?
1. High lumens, saving 40% of electricity cost
2. Unique light distribution technology effectively controls glare, enhances sports comfort and the experience of watching games.
3. Separate control technology of lamps and drives increases the flexibility of the system and can effectively reduce the load on the road or light pole.
4. Advanced remote dimming function, which can automatically adjust the luminous flux output as required to meet the lighting needs of the venue.
5. HISHINE's lighting technology surpasses traditional lighting in the past, bringing a better experience to athletes, spectators and TV broadcasts.
6.HISHINE's constantly pursues high quality, ease of use and installation of products, saving installation and maintenance costs
7. We are not only the luminaire makers, but also designers for the comfortable light.